Today's environmental and natural resource organizations face great challenges, including increasingly scarce resources, the need to address many diffuse and difficult-to-control sources of environmental degradation, skepticism about traditional command-and-control regulatory solutions, and a public that expects to be informed of and involved in environmental decision-making.
Ross Strategic helps organizations to grasp the opportunities these challenges present: to foster multi-stakeholder and community-based decision-making; to create alternative and market-based management tools; to become more efficient, responsive and results-oriented; and to adopt more integrated watershed and landscape approaches to natural resource management.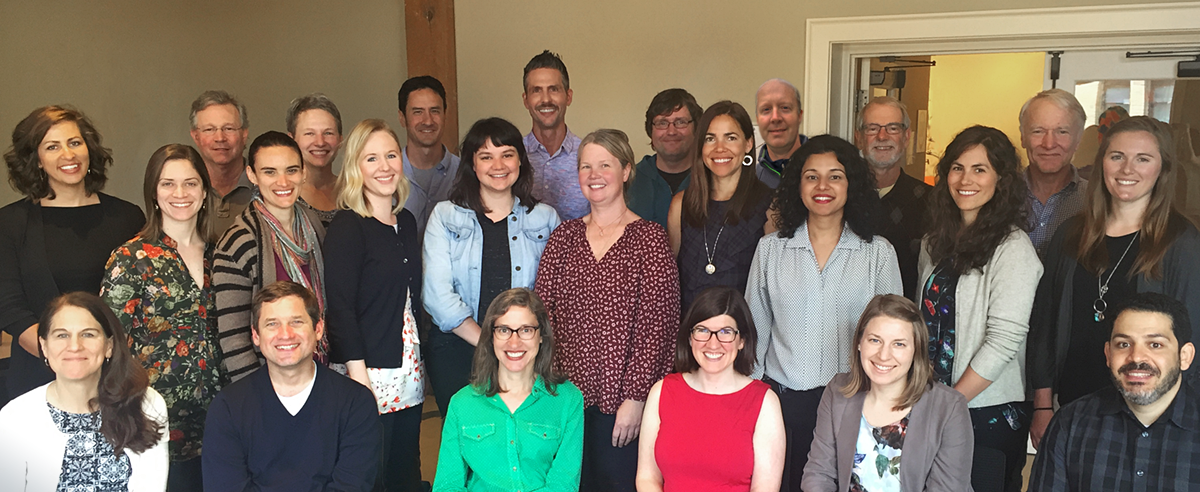 Firm History
Ross Strategic, originally Ross & Associates Environmental Consulting, opened its doors in the fall of 1987. The firm's founder, Bill Ross, culminated his public sector career as Commissioner of the Alaska Department of Environmental Conservation and recognized an acute need from public sector agencies working to address complicated environmental and natural resource issues. It was a simple ambition—help environment and natural resource leaders sort through complex problems and bring people together to make the world a better place. So, Bill set up a one-man office down the street from US EPA's Region 10 and set to work.
Within a year the burgeoning company had doubled in size as Rob Greenwood joined the firm. The early 1990s saw us hit our stride in establishing the type of work we are still known for: collaboration, analysis, evaluation, decision support, and strategic planning. We cultivated clients such as the National Governors Association and the US EPA, with whom we still work with today.
By 1995, we were 200 projects into establishing a track record and reputation of responsive and insightful work, and had a staff of 20. In the mid-1990s, running to meet the revolutionary impact of internet technologies, our faxes gave way to individual email addresses, and we began establishing a practice supporting public sector agencies in using information technology to improve environmental protection. Our information management practice is still going strong today. We helped establish and continue to support the Environmental Information Exchange Network, a ground-breaking national partnership among States, Territories, Tribes, and EPA that is revolutionizing the secure exchange of environmental data over the internet to support decisions and solve complex environmental problems.
We saw a need to support clients through conscious investment in innovation, both to address changes in technology but also to manage increasingly regular governmental budget shortfalls and the evolving expectations of the public. Ross worked with EPA and other clients to establish Lean government tools and guidance, explore flexible permitting, and other innovations. This work remains an important part of our service offering.
Over the late 1990s and early 2000s we dramatically diversified our expertise and client base moving into public health tracking, salmon and estuary recovery, and climate change where we work with clients such as the Centers for Disease Control, the National Oceanic and Atmospheric Agency, the Puget Sound Partnership, and the Washington State Department of Ecology.
For the public sector, the late 2000s onward can probably best be described as resource-challenged. This new norm means that public sector agencies must look to private-public partnerships to accomplish some of their work. Non-profit foundations have become an important driver in addressing today's emerging issues. Environmental and public health programs are expected to both document the results they deliver and to improve over time. Ross has established rapidly growing evaluation and catalytic grant making practices to support private foundations and help government clients understand the efficacy of their programs and investments, and make the best use of scarce resources.
In 2012, 25 years after Bill moved to Seattle and started the firm, and more than 1,000 projects later, Ross & Associates Environmental Consulting changed its name to Ross Strategic. Our new name recognized our evolution, current portfolio of work, areas of expertise, and the type of work we want to continue doing. In 2014 we added two new principals to the firm's leadership: Tom Beierle and Rob Willis.
In 2016 Tim Larson stepped in as President for our founder Bill Ross. Tim has been an owner at Ross Strategic since 2005, and anchors our growing office in Austin, Texas. Bill remains an integral part of the business, providing guidance, advice, and insights to clients and working part-time as he eases towards retirement. The firm's current ownership team includes Rob Greenwood, Tim Larson, Elizabeth McManus, Rob Willis, and Tom Beierle.
As we look fondly back at nearly 30 years of service, and excitedly forward to the future, we remain tied to that same simple ambition — to sort through complicated problems, bring people together, optimize leadership, and make the world a better place.